One of my main goals in life is to feed my husband, Josh. He works full-time and is three classes away from a BS in Chemistry. Need I say more. He barely has time to sleep, so I try to make his life easier by cooking, a lot. It's not like I don't like to cook anyway, but sometimes I don't have time either.
Another one of my goals is to only have the food that we are going to use in the refrigerator. There really is no need to have a bunch of food laying around in our pantry. I stop by the store on my way home from work every couple of days and only get what we need. That way it's fresher and I don't waste money. That also means that I have an empty fridge.
So what do I make when I need to feed Josh, have no time, and an empty fridge?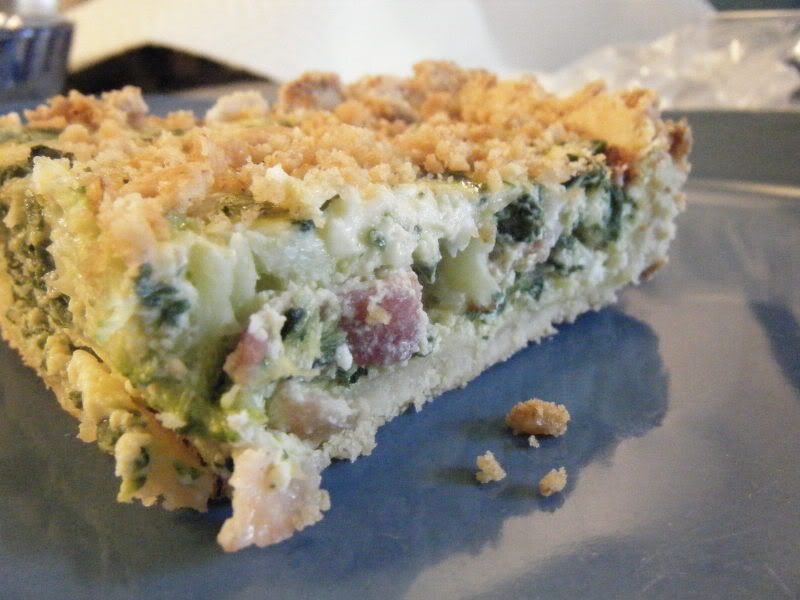 Easy-Peesy Egg Pie


For the Crust:
1 1/4 cups of all purpose flour
2 tablespoons sugar
1/4 ts salt
8 tbs butter, softened
2 ounces of cream cheese, softened


For the pie:

4 eggs
1/2 cup of milk
1/2 cup of frozen broccoli, chopped
1/2 cup of spinach, fresh
1/4 cup of mozzarella cheese
3 slices of bacon, cooked and chopped


For the crumb topping:

1/2 cup of whole wheat cracker crumbs
1 tbs butter
,
melted


For the Crust:

1. Grease a 8x8 square glass pan. Preheat the oven to 350 degrees. Whisk the flour, salt, and sugar in a bowl.
2. With a mixer, beat the butter and cream cheese together on medium-high until combined, about 2 minutes. Reduce the speed to medium-low and add the flour mixture until it resembles course crumbs, about 20 seconds. Increase the mixer speed to medium high again and beat until the dough forms large clumps, about 30 seconds.
3. Transfer the dough to the glass pan. Shape the dough into a ball, and then flatten into a 6-inch disk.
4. Press the dough evenly over the bottom of the pie plate. With your fingertips, continue to work the dough evenly over the bottom of the pie plate until evenly distributed.
5. Pre-bake the crust, for 10 minutes
.

For the Pie:

6. In a separate bowl, whisk the eggs and milk together until evenly combined. Add the broccoli, spinach, cheese, and cooked bacon. Stir until combined.
7. Add mixture to pre-baked crust.
8. Cook for 10 minutes.


For the crumb topping:

9. While the pie is baking, mix the crushed cracker crumbs and butter together.
10. After 10 minutes of baking take the pie out of the oven and sprinkle with crumbs.
11. Bake for 20 more minutes or until done.

After taking the time to type this recipe out, it doesn't seem to be so easy-peesy. It is a lot of steps, but is still very simple and delicious.

Bon Appetite