Today marks the first of four days off in a row for Josh and me. Even though we both have tons of homework, I have a few exciting things planned.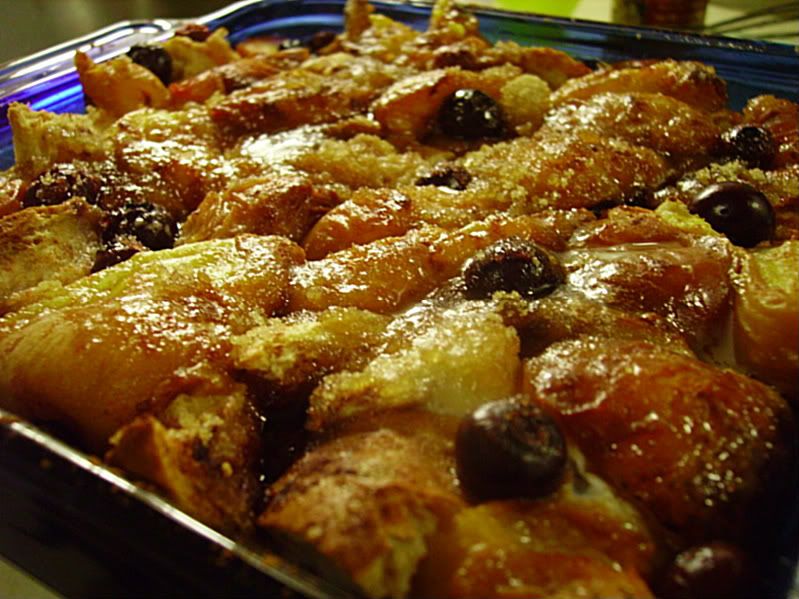 As I munch on my late night peach-blueberry french toast bake, I can't help but squeal with a little delight. This week is
Tour of Missouri
!
Tomorrow we are going to peruse the aisles of the new Whole Foods.
Saturday Josh and I are going to cheer our favorite cyclists to victory.
Sunday is a low key homework day.
Yes, We have a busy weekend ahead.
Late Night Peach-Blueberry French Toast Bake
Cooking spray
4 slices whole-wheat bread
3 whole eggs
1 cup low fat milk
1 teaspoon vanilla extract
2 cups sliced peaches, fresh or frozen
1/2 lemon, juiced about 1 1/2 tablespoons
Handful of blueberries
3 tablespoons brown sugar
1/4 teaspoon ground cinnamon
Spray a 8x8-inch baking pan with cooking spray. Break the bread into 1/2-inch pieces and arrange the slices in a single layer in the baking pan. Whisk together the eggs, milk and vanilla. Pour the egg mixture over the bread in the pan. In a medium bowl, toss peaches and blueberries with the lemon juice and 1 tablespoon of the brown sugar. Scatter the peach slices evenly on top of the bread. Combine the remaining brown sugar and cinnamon and sprinkle over the top. Cover and refrigerate overnight, if desired. (It turned out just fine without refrigerating overnight.)

Preheat the oven to 350 degrees F. Uncover and bake for 40 minutes.

This was great with a nice tall glass of milk and a little maple syrup. Bon Appetit.