Josh and I attended part of the
SCAA Midwest Barista Championship
. It was held at the
Third Degree Glass Factor
y near the Delmar Loop in St. Louis.
Although I have
my own personal barista
at home, I have never been to a barista Competition. It was an exciting experience. There was tension in the air. Alex, a fellow coffee lover and competitor was there with his girlfriend, Jenny. He was nervously bouncing around and talking about coffee and espresso with Josh.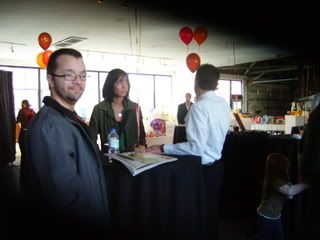 The renowned Barry Jarrett of
Riley's Coffee and Fudge
was one of the judges. As Barry judged, he held a little clipboard. What I wouldn't give to see what he was writing on the thing! As the barista competes , a large screen shows off his espresso making skills. Although I don't know the criteria in which the barista is judged, I do know that the barista makes one espresso, one cappuccino, and one signature drink of his/her own creation.
They also offered pastries from
222 Artisan Bakery
and
Cup of Excellence
coffee from
Kaldi's. Coffee
. I must say that the pastries were so delicious. They seriously melt in your mouth. I almost devoured two myself.
I'm not sure the exact name of this creation, but I know it had mango in it. I simply cannot wait to check out the bakery. I will need to have a long bike ride before I go, so I can enjoy their concoctions without guilt. It was so flaky and moist.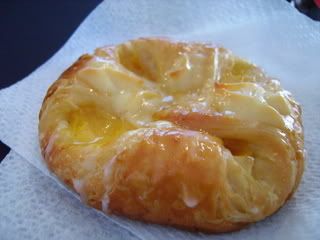 Look at the restroom sinks at the Third Degree Glass Factory. You just put your hand under the spout and the water turns on. (I have to have one of these someday.)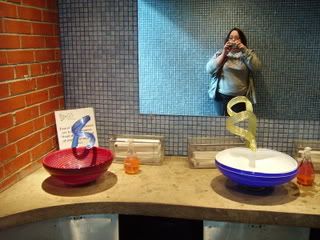 I really wish that we could have spent the entire day at the competition. However, I did enjoy my time spent there, and cannot wait to go again next year.