I heart
Intelligentsia
.
This week I had the opportunity to purchase some Intelligentsia tea. I am an avid tea drinker, at least two cups a day. I don't discriminate against cold or hot; I drink both. I'm more of a fan for black teas, than green. I'm a minimalist as far as flavorings are concerned. I prefer plain tea, to fruit. However, I am branching out a bit.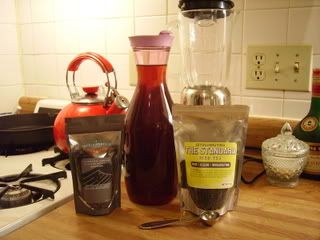 My favorite tea is Assam. I ordered a the
Satrupa Assam
, Summer reserve. I will sip this tea hot with a little sugar. At $15.00 for two ounces, iced tea would be a waste. Intelligentsia describes this tea as a "heavy-bodied black tea with a rich maple-syrup sweetness and deep malty flavor." That it is.
I also ordered a tea called
The Standard
. It is an ice tea. Intelligentsia touts that this tea "makes iced tea better than you remember." It definitely lives up to it's expectations. I brewed the tea as directed in a tea kettle for four minutes. The directions request one tablespoon for eight ounces of water. I strained the tea into my carafe. The Standard has a pleasant aroma. It sips smooth with a vanilla aftertaste.
I am very pleased with my purchase and plan to sip myself into oblivion.