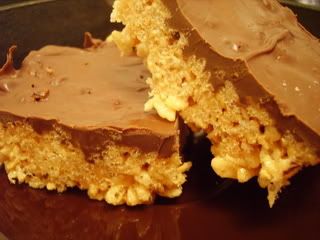 This week I was asked to be a part of the
St. Louis Bloggers group
. Although I've been blogging for almost two years now, I am really excited to be a part of it.
In honor of my membership, I made butterscotch chocolate rice krispie treats. (Yes, I am still cleaning out my cabinets.)
Josh and I used to buy something similar from a little baking stand at the St. Charles Farmer's market, but they quit making them. Apparently the bars melt in the heat (and your mouth.) I finally found a similar recipe that definitely fits the bill. They are so good; I have been keeping myself from devouring the entire pan all day.
Butterscotch Chocolate Rice Krispie Bars
Ingredients:
1 cup light corn syrup
1 cup sugar
1 cup peanut butter
6 cups Rice Krispies®
or 6 cups Cocoa Rice Krispies®
1 cup semi-sweet chocolate morsels
1 cup butterscotch chips
Directions:
1. Place corn syrup and sugar into 3-quart saucepan. Cook over medium heat, stirring frequently, until sugar dissolves and mixture begins to boil. Remove from heat. Stir in peanut butter. Mix well. Add Rice Krispies cereal. Stir until well coated. *Press mixture into 13 x 9 x 2-inch pan coated with cooking spray. Set aside.
2. Melt chocolate and butterscotch chips together in 1-quart saucepan over low heat, stirring constantly. Spread evenly over cereal mixture. Let stand until firm. Cut into 2 x 1-inch bars when cool.