I have had quite a relaxing weekend with lots of coffee, a little reading, and some much needed playtime with my family. We had my little Sis's birthday party this weekend with lots of steak and cake. But, that's a post reserved for the 22nd, her actual day of birth.
Sans laundry duty, I have spent most of my day lounging around the house, and updating my
bakespace
profile. (Ugh. I really do need to take an HTML class. I know that if I really knew what I was doing, it wouldn't have taken several hours to make my profile.)
Alas, I am really happy with outcome. In fact, it is rather
perfectly
,
perfect
for someone who could eat a cupcake every day of her life. :-)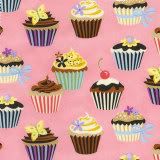 Sprinkled full of love
a Cupcake's aura is
iced with perfection.





Love,