There is a new addition to the Burns family vintage linen collection.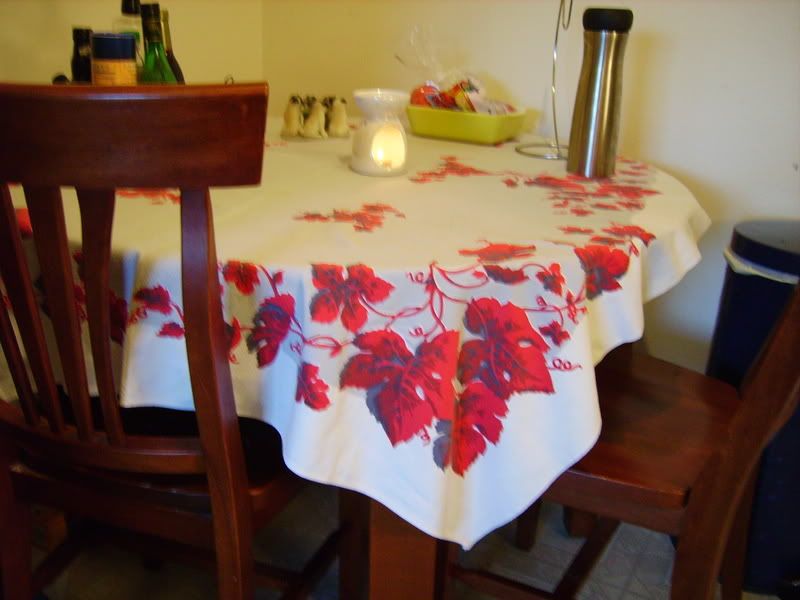 It is lovely, and old. It already had stains from a person's past. I know that it was once used and loved. I cannot wait to add some stains of my own, which I invariably will.
I could not for the life of me find a price tag on it, so the lady gave it to me for only three dollars. At the checkout, we found a little tag near that bottom corner that listed it for six. She gave me the bargain price anyway.
And I picked up these pink and green potholders. They are so
mod
. I will happily use them to take a pie out of the oven.
The potholder's background is my couch. My
non-denim
couch. I chucked the denim slipcover in the dumpster and made one of my own out of t-shirt sheet set. Voila! I am not looking for glamour here, just a nice comfy place to sit while I whittle away at my to-read list, or cuddle with my four boys.
I really want to get some red, gold, and blue pillows to lounge around with. I'm also trying to talk Josh into making the walls colorful. However, he's not being very receptive. He.he.
As I sit writing this, I hear my rowdy boys playing in the background. Normally, they just tend to ignore each other. It's rather nice to see them "getting along."
Aur revoir, mon amis.
C'est la vie
.