On Sunday, the weather was perfect. It looked like the first signs of spring were starting to show. I finally had the opportunity to take my road bike out and see what she could do.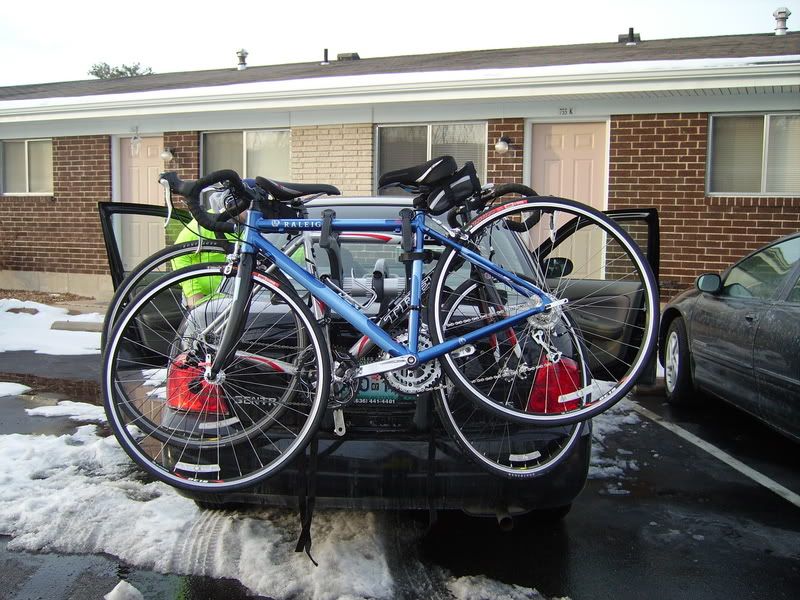 We started off in a parking lot. Josh kind of forced me into changing gears. I was not really able to concentrate on turning and changing gears at the same time. It was really difficult. I'll admit that I turned a bit feisty. I think that I murmured, or yelled several times, "You can't force me to do anything. Just let me figure it out on my own." Poor Josh.
I was actually really nervous about riding her on the road. It was busy! I finally convinced Josh to change locations. We settled on the Cardinal Health parking lot located just behind the Coke plant.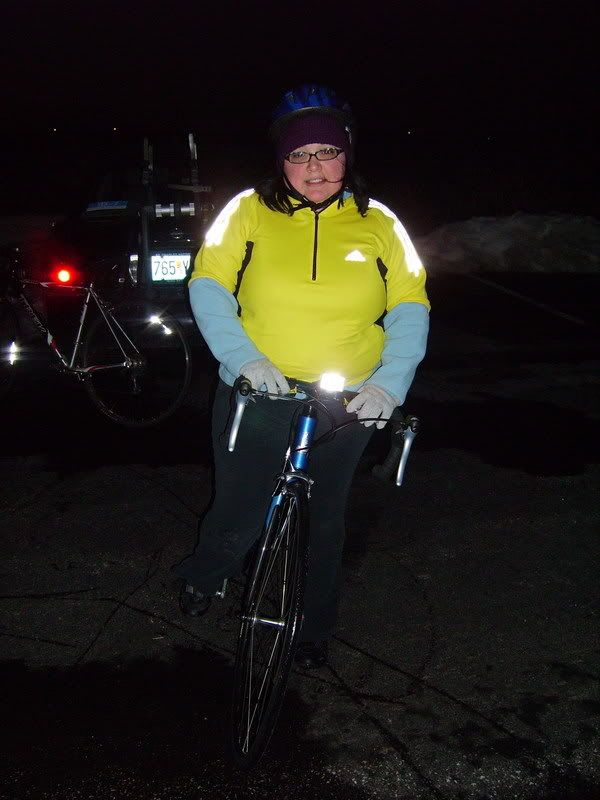 I revved her up and down the road, changing gears a few times. Then, I was ready to take her out.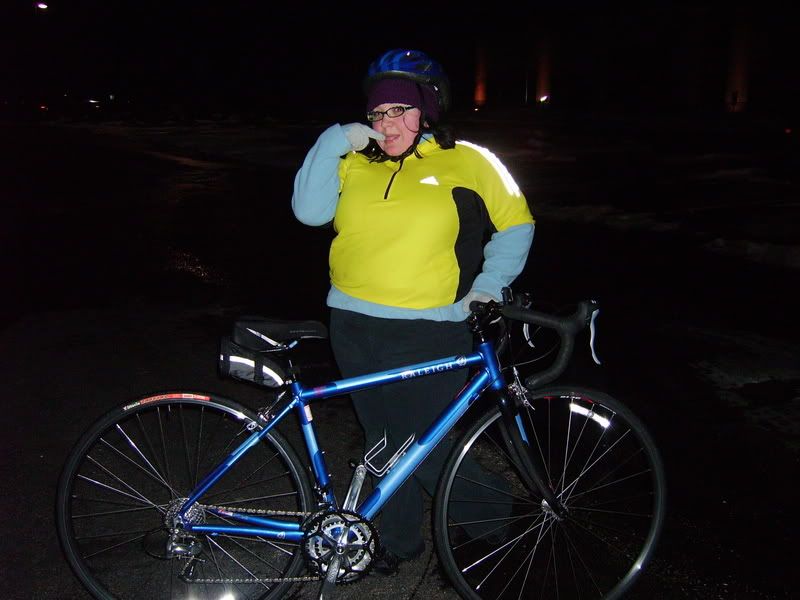 I felt more comfortable with Josh in the lead. He took me through a series of virtually empty roads. I think that it was actually a highway. We passed corn fields, and COWS, black Angus ones. Several cars passed us. One honked. Eventually, we stopped at the Missouri River. I could kick myself for not bringing the camera. It was amazing. There was almost a sub-division of beautiful houses that line the frozen river. I could have stayed for hours, but it was getting dark.
We headed back just in time to take pictures of me on my road bike! It's really fun.
Then we went to Whole Foods where I rooted around and got this really cool bodum flask, some Artisan Chocolate that tastes like barbecue (Blak!), and Yogi tea.
All in all, it was a lovely day.

But, my first ride did trigger my allergies. I have been in bed for two days now. The doctor put me on seven medications: Allegra, Singulair, Flonase, Ibuprofen, Tylenol, Sudafed, and Nexium for good measure. I'm not exactly sure what the point of the Nexium is since I don't have an ulcer, or anything. To top it all of, I'm not particularly comfortable with taking medication in the first place. It was all really strange, actually.

I stayed home from work two days in a row where I hacked, coughed, sneezed, and blew. (I'm convinced that I am fired even though I have a doctor's note.)

I just awoke after napping of and on all day. I can see the first signs of feeling better. FINALLY!

The moral of the story: I love Road Biking. I cannot wait until I feel better. It's supposed to be nice all week.

(Okay Josh, She has debuted. Post away.)
P.S. Please forgive me. I am still a bit sick, so this is choppy and redundant.