Over the River and Through the Woods to Aunt Dena's house we go:


I had a wonderful time on Sunday.
Josh and I made the long haul to
Montgomery City, Missouri
where we caught up on old times with the much better half of my dad's family: Keri, Shawn, Aunt Dena, Uncle Richard, and Aunt Barbara.
Keri and I once spent a summer with my Aunt Dena and Uncle Richard in
Hawaii
. At on point, they had owned a grocery store where we half-heartedly worked for candy money. We spent the summer riding around on old ten-speeds, eating pizza sandwiches out of a sandwich maker, and sneaking into hotel swimming pools.
It was like taking a stroll down memory lane.
It was also really nice to spend time with my two Aunts who both had a great influence on my culinary adventures. I made my first pie on Thanksgiving with Aunt Dena, many years ago. Aunt Barbara gave me my first cookbook at my wedding reception. I now have developed quite a collection, topping over 100 cookbooks to date. Little did I know that it would be the beginning of an obsession…

After dinner, Aunt Dena laid out a bunch of goodies for us in their spare bedroom. Keri and I giggled and poked around until we landed on the RED lipstick.

Then we settled on dessert. I brought banana-chip bread.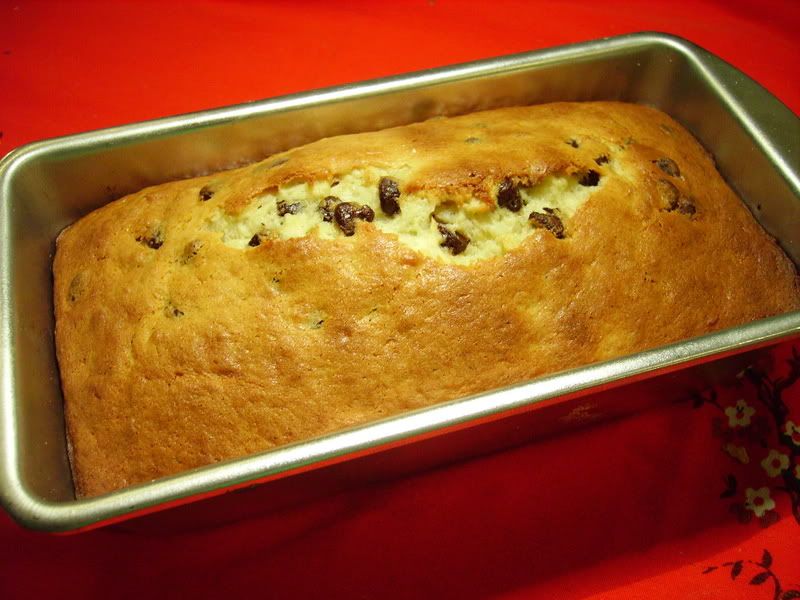 Banana-Chip Bread- adapted from Quick and Delicious Bread by Johna Blinn
1/3 Cup Butter
2/3 Cup Sugar
2 eggs, lightly beaten
1 3/4 cups, sifted flour
2 3/4 teaspoons baking powder
1/2 teaspoon salt
1 cup mashed ripe bananas

1. Beat Butter 2 minutes at medium speed of electric mixer, until creamy and glossy.
2. Gradually add sugar beating until light and fluffy after each addition.
3. Add eggs; beat until thick and pale lemon in color.
4. Sift dry ingredients; add alternately with bananas to cream mixture, blending thoroughly after each addition.
5. Turn batter into a greased bread pan.
6. Bake in a preheated oven 60-70 minutes (it only took about 45 minutes in my oven)
7. Let bread partially cool 20-30 minutes before turning onto rack.


It was lovely. I hope to do it again soon.