Corn chowder is an easy alternative to the famous Boston Clam Chowder. It is an especially handy chowder to make when you are not fortunate enough to live near a coast where you have access to fresh seafood. According to
recipelink.com
, Corn chowder has is origins in the farmhouse where corn and salt pork were often available. The first documented recipe came from Mary Lincoln of the Boston Cooking school in 1884. Luckily, many recipes have survived through the years and are still available today.
My corn chowder recipe is from
Eating Well's Comfort Foods Made Healthy
, by Jessie Price. I have been trying to lose a few pounds, so it was really nice to have this healthy alternative. It was actually very tasty. You couldn't even tell that I used turkey bacon. (It tasted like ham.) Since this is the only corn chowder I have ever made, I have nothing to compare it to. However, I would definitely give it two thumbs up.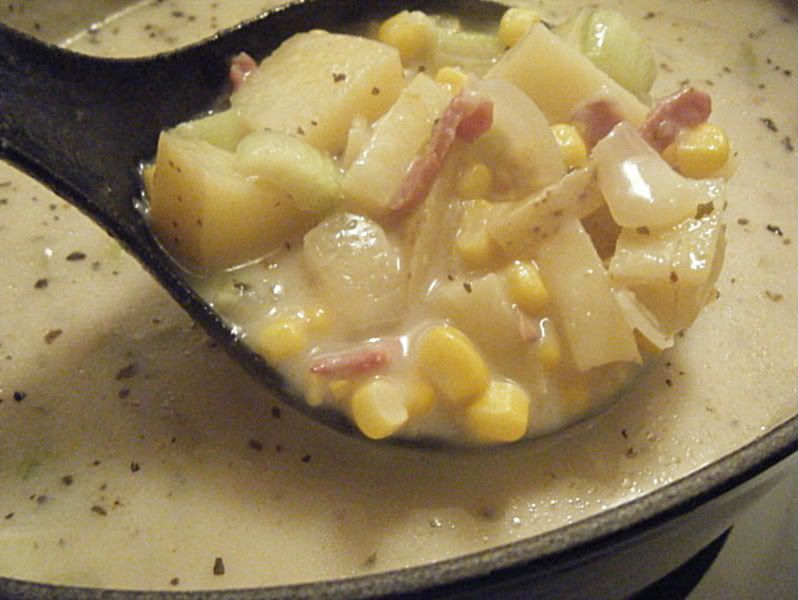 Fresh Corn Chowder
1 1/2 teaspoons canola oil
2 slices turkey bacon, diced
1 medium onion, diced
1 stalk celery, diced
1/4 cup all-purpose flour
2 28 ounces of chicken broth
2 cups of frozen corn
2 medium potatoes, peeled and diced
1 1/2 cups low-fat milk
1 teaspoon salt
Freshly ground pepper to taste
1 table spoon bouquet garni

1. Heat oil in a large saucepan over medium heat. Add bacon, onion, and celery. Cook, stirring frequently, until softened and beginning to brown, 7 to 8 minutes. Sprinkle flour over the vegetables and cook, stirring, for 1 minute more. Add broth and bring to a boil, whisking constantly. Reduce heat to low and simmer, uncovered, stirring occasionally, until slightly thickened, about 15 minutes.
2. Add corn kernels, potatoes, milk and salt to the pan. Return to a simmer and cook, uncovered, until the vegetables are tender, 20 to 30 minutes. Season with pepper. Serve garnished with bouquet garni.
NUTRITION INFORMATION: Per serving: 188 calories; 5 g fat (1 g sat, 2 g mono); 14 mg cholesterol; 29 g carbohydrate; 9 g protein; 3 g fiber; 605 mg sodium; 455 mg potassium. Nutrition bonus: Vitamin C (69% daily value), Vitamin A (19% dv). 2 Carbohydrate Servings Exchanges: 1 starch, 1 vegetable, 1 fat
(This marks the start of my
cookbook challenge
. No more buying cookbooks; More time cooking great recipes! Wish me luck.)