I had an extremely scrumptious meal planned tonight. Black bean soup, with homemade bread, and spinach. I soaked the beans during my nap, and then promptly added all of the ingredients into the pot.
BIG MISTAKE!
If you add sugar, salt, or any other acid (Tomatoes) to the beans while it's cooking
, the skins will harden. Basically, I had a big pot of rocks with a little tomato, spinach, and broth thrown in.
So, What did I do? I added Baking Soda because I thought it would level out the PH. Instead, the soup frothed and spewed like an erupting volcano.
Beans must be cooked alone. Period.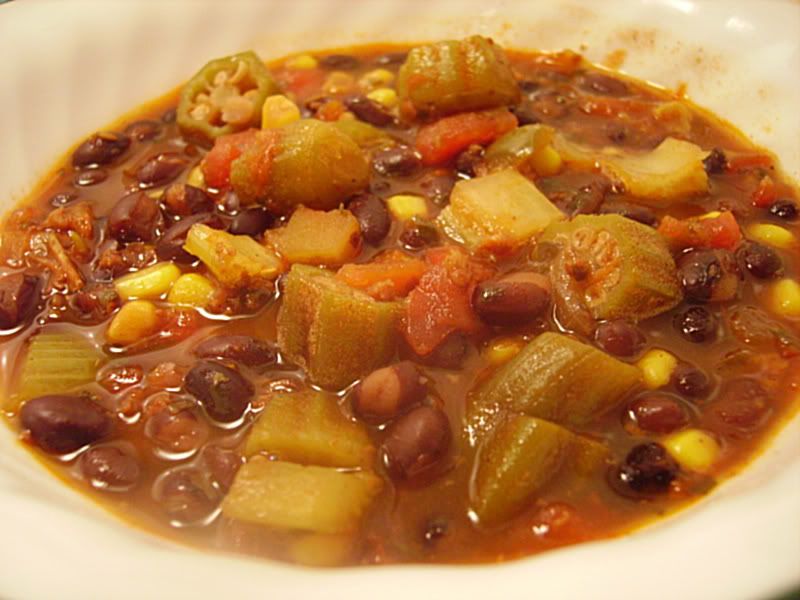 Not-So-Homemade-In-A-Pinch Black Bean Soup
4 ounces of Chorizo
1/2 Onion, Diced
1 cup okra, frozen
1 cup of corn
2 Cans of Black Beans
1 Can of Rotel Tomatoes
2 TBS of Chili Sauce
1 TBS of Worcestershire Sauce
1 TS of Chili Powder
1 TS of Cumin
1 TS of dried Cilantro
8 ounces of Chicken Broth
1. Brown the chorizo for a few minutes and then add the onions. Cook until onions are soft.
2. Add the okra, corn, and tomatoes. Stir.
3. Add the Chili Sauce, Worcestershire Sauce, Chili Powder, Cumin, and Cilantro.
4. Add the Chicken broth.
5. Cook for about 30 minutes.
Bon Appetit.