Since Josh and I didn't celebrate our sixth wedding anniversary on Friday, we went to the amazing
Bodyworlds 3
. It had many amazing exhibits, but my absolute favorite is the
camel
and baby. The camel actually had food in it's stomach.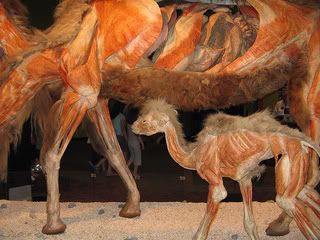 To be honest, I really wish that I could have seen the
pregnant
lady. That fascinates me a little, but it's also sad.
We lunched at
Berix Coffee
, a Bosnian cafe in South St. Louis. It's the first time we have eaten Bosnian cuisine. We were pleasantly surprised. The decor had wood paneling and European paintings. The menu is in Bosnian language (Slavic?) The cafe even serves Turkish coffee.
My mouth is watering just thinking about this sandwich.
It is called Cevapi. It's a Bosnian flat bread with cooked sausages. The flat bread tastes egg-like, and almost had the consistency of an English muffin.
This is a Doner Kebab.
It was a tasty sandwich of Bosnian flat bread, spit roasted lamb and beef with a "Turkish dressing." It resembled a Gyro, but with different seasonings. Yum!
I love this picture of Josh. For some reason I alway tend to capture him with his mouth full. Although that may be true in this one too, he has a playful look in his eyes.
We definitely had a good time and left with a full belly.
However, as we were leaving a parking officer gave us a ticket because our car was not close enough to the meter. Apparently, the front door should not be in front of the meter. We didn't let that spoil our beautiful day. 60 degrees in January!