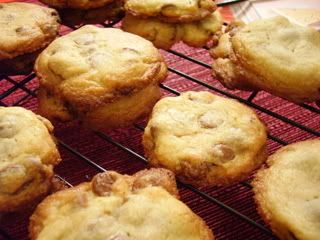 These
cookies
are really blowing my diet.
I made these gems almost two days ago. They are from
Martha Stewart's Original Classics Cookbook
, only I substituted the chocolate chunks for milk chocolate chips. They are perfect, a little crunchy on the edges and chewy on the inside. Just the way I like them! I usually under-bake cookies a bit by removing them from the oven early. I then let them rest on a silpat sheet for a few minutes to create the perfect chewy affect.
I have the weekend off with no really plans, so expect many more culinary treats.