I'm not one to waste, well usually. (Ok, at least I try.) I had a carton of buttermilk with an upcoming expiration date and some well darkened bananas that needed to be used.
What do you do when you have buttermilk and bananas?
You make buttermilk honey banana bread.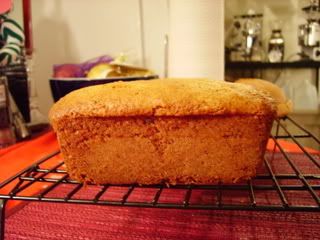 This bread is so moist and yummy that it almost melts in your mouth. The walnuts give it a nice texture and the honey sweetens the bread perfectly.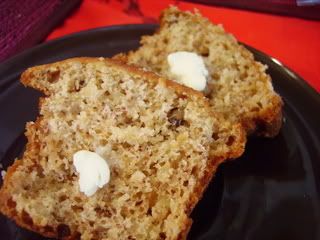 I swiped my recipe from the
Seattle Bon Vivant
blog. It was so delicious. Enjoy!
Buttermilk-Honey Banana Bread
2 large eggs
¾ cup sugar
1 cup mashed ripe bananas
1/3 cup buttermilk
1 tablespoon canola oil
1 tablespoon vanilla extract
1 ¾ cups all-purpose flour
2 teaspoons baking powder
½ teaspoon baking soda
½ teaspoon salt
2 tablespoons butter
1/4 cup honey
1/4 cup chopped dates
1/4 cup chopped walnuts

Preheat oven to 325°F. Butter loaf pan with a teaspoon of melted butter and lightly dust with flour. In the bowl on a Kitchen Aid beat the eggs with the sugar on medium high until thick and light--about 5 minutes. Add mashed bananas, buttermilk, walnuts, honey, dates, oil, remaining butter and vanilla.
Add sifted flour, baking powder, baking soda and salt mixture to the wet ingredients and beat just until combined. Transfer batter to pan and bake until tester inserted into center comes out clean and top is golden brown (about 1 hour). Turn bread out onto rack and cool.