I look up at the clock and notice that it's already ten in the evening. My days off of work fly by so quickly.
My day started off with Josh's experimental cappuccino making. It seems like I heard the whoosh of the steam wand all morning.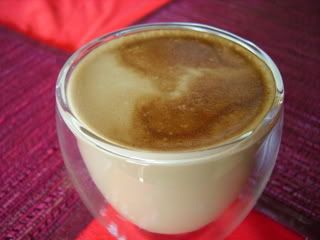 He's not quite there yet, but I definitely enjoyed the creaminess of this concoction.
Yum.
For lunch we had whole wheat pretzel dogs. They seemed quite rustic. I think that I used a little too much dough.
They were tasty nonetheless. I used Trader Joe's Mango Chicken Sausages and a pretzel recipe out of an old notebook.
After a long day out and about, my fridge is completely stocked (and cleaned.)
It really has been a lovely day.