For Josh's birthday, we went out for sushi. It was my first real experience with this type of cuisine. I must say, this ain't your average-supermarket-sushi. Trust me. It was delectable.
After a lot of research, we carefully selected Wasabi restaurant in the heart of Clayton. It seemed like to had more of a traditional appeal to it. We were right.
As we arrived, Josh and I definitely felt out of our element, for sure. The waiters were the strong, silent type. They were attentive and polite, but not helpful. That's when we knew that were on our own. In fact, Josh was even kind of nervous. He had a look of serious concentration on his face that I could not wipe of until our food arrived.
After we were seated, they handed us a tray of warmed towels. We weren't quite sure what to do with them. That's when I started moving my eyes from table to table. No one else still had their towels! I moved ours around on the tray so that it looked like we knew what we were doing. Little did Josh and I know that we were just supposed cleanse our hands with them before the meal. Luckily the
towels
weren't so mussed up, since its polite to fold them neatly back the way they were originally given to you. (What a lovely custom, I might add.)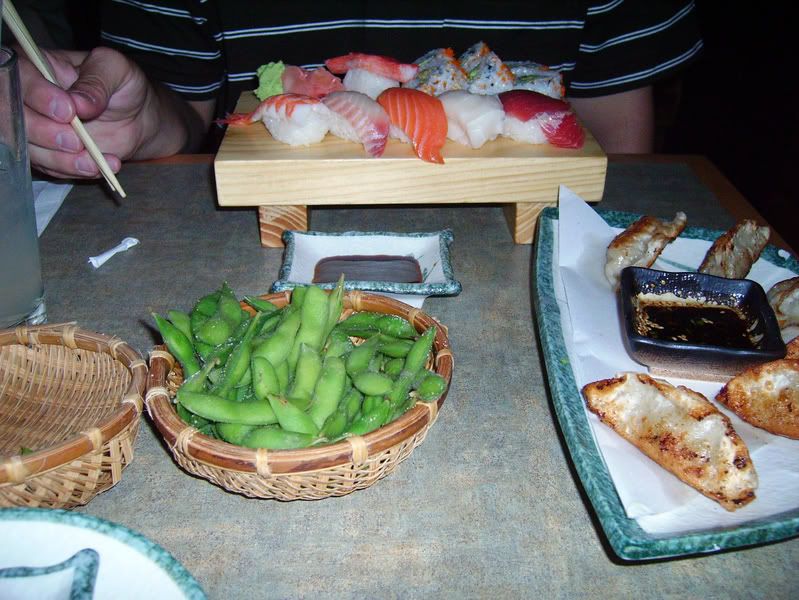 We started the dinner off with some lightly salted edamame, and the gyozas. (I pronounced the gyoza wrong when ordering, and was quickly corrected.)
Josh chose a chef's choice sashimi platter that was really eye catching.
Instead, I chose a bento box. Where can I get these lovely plates, I wonder?
It included Teriyaki Chicken, rice shaped like a tulip, a vegetable medley, ginger salad and the most delicious cucumber rolls ever. I can still just imagine the taste of the cucumbers on my tongue. They were tangy and sweet all at the same time.
Once our nerves subsided, Sushi proved to be a rather enjoyable experience. One that I will be happy to do again, over and over.
P.S. Happy Birthday Josh! You are the best.