Chicken Piccata, Nada Nada...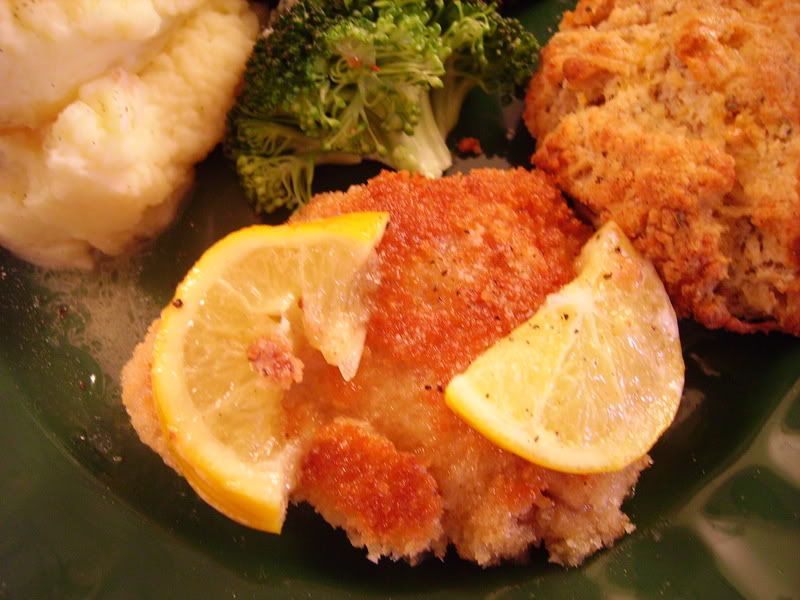 I belong to the
Good Cook Book club
. It's a cookbook lover's paradise. Honestly, I joined only because I got four books free. And, around Christmas time they had awesome prices on all of their selections.
Apparently, they send you out a selection every month, unless you let them know that you are going to pass. Okay, I'm rather forgetful. So, I ended up receiving Barefoot Contessa at Home.
I thought about returning it, but curiosity forced me to open the box and peek inside.
This really is a great cookbook. Everything looks so delicious and fresh.
Almost the very next day, I made Chicken Piccatta.
Chicken Piccata
4 Split boneless skinless chicken breasts
kosher salt and fresh ground black pepper
1 Cup of Whole meal flour
2 Large eggs
1 1/2 cups of seasoned dried bread crumbs
Olive oil
3 tablespoons unsalted butter
1/3 cup of freshly squeezed lemon juice (2 lemons)
1/2 cup of dry white wine
sliced lemon
chopped fresh flat leaf parsley
1.Preheat oven to 400 degrees. Line a biking sheet pan with parchment paper.
2. Place each chicken breast between two sheets of parchment paper and pound it out to 1/4 inch thick. Sprinkle both sides with salt and pepper.
3. Mix the flour, 1 teaspoon salt, and 1/2 teaspoon of pepper in a shallow plate. In a second plate, beat the eggs and 1 tablespoon of water. Place the bread crumbs in a third plate. Dip each chicken breast first in the flour, shake off the excess, and then dip in the egg and bread-crumb mixtures.
4. Heat two tablespoons olive oil in a large saute pan over medium heat. Add the chicken breast and cook for 2 minutes on each side, until browned. Place them on the sheet pan in the oven while you cook the sauce.
5. For the sauce, wipe out the saute pan . On medium heat, melt 1 tablespoon of the butter and then add the lemon juice, white wine, the reserved lemon halves. Boil over high heat until reduced by half, about 2 minutes. Off the heat, add the remaining 2 tablespoons of butter and swirl to combine.
6. Sprinkle with fresh parsley.
Even though it seemed like I did a lot of dishes for this one, it was not-so-surprisingly good.
Enjoy.