I still think that
Josh
has a problem with eating. You see, I don't think that he's very innovative around the kitchen. If it's not already put-together or in a can, he thinks that there's nothing to eat.
And, that's okay. This isn't a post to dig on Josh's lack of culinary creativy.
It just forces me to have to get up in the morning and fix him something delicious before he goes to school. (If I don't, Josh will only eat an apple that will have to sustain him until dinner. Naughty Josh.)
Because of the offensive nature of this post, I am forced to add an amendment. Josh tries. He made eggs and gross tomato soup. Perhaps, I'm naughty too.
OH DARN.
I get to cook. That's so tragic.
The dinner of the week thus far has been Kielbasa Corn Chowder and Mile High Biscuits. Hands down.
It was so flavorful that you could probably omit the sausage and it would still be delicious. My mouth water just thinking about it.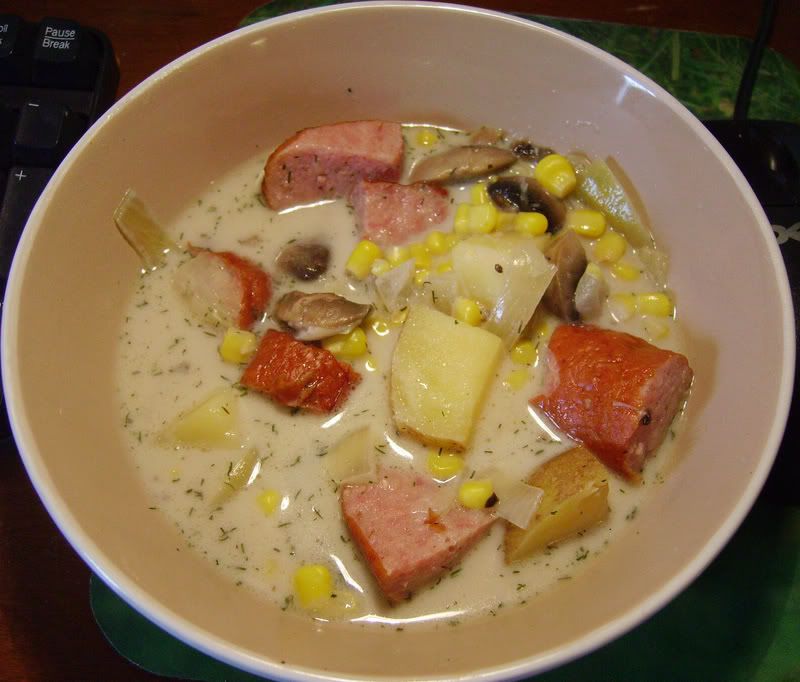 Kielbasa Corn Chowder courtesy of Everyday With Rachael Ray Magazine

1 package of Kielbasa, halved lengthwise
2 onions, finely chopped
1 tablespoon of butter
One can of Chicken Broth, 14.5 ounces
1 Large Yukon Gold Potato, cut into 1/2 inch cubes
1 Cup of Half and Half
One lb. of Frozen Corn
Sliced Mushrooms, to taste
Salt and Pepper
Dill Weed
1. Brown Kielbasa and set aside.
2. In a dutch oven cook onions and butter over medium heat, stirring occasionally.
3. Add the broth and potatoes and bring to a boil. Reduce heat and simmer potatoes until tender, about 10 minutes.
4. Add the half and half, corn, and sliced mushrooms, stirring until cooked thoroughly.
5. Using a food processor, puree one cup of chowder until smooth.
6. Stir in the pureed chowder, kielbasa. Season to taste with salt and pepper. Garnish with dill.
I pair this with
Mile high biscuits
. They were perfect: lightly crunchy on the outside and moist on the inside.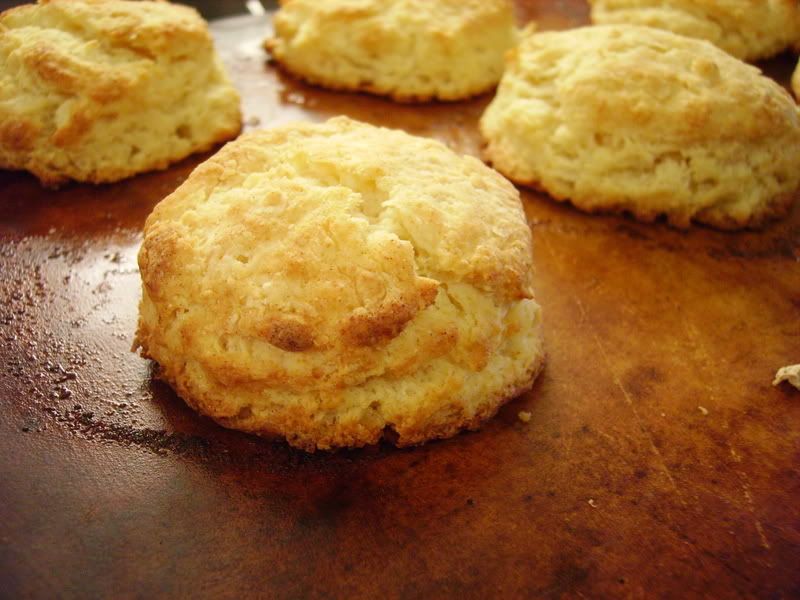 You cannot go wrong with this meal. Enjoy.
P.S. Hello to everyone who has been reading my blog. I really enjoy all of your comments and hope to reciprocate in the future.