In the past, I have attempted to make the perfect pizza dough several times. Frankly I just fell short, until yesterday!
I created a masterpiece of absolute pepperoni perfection. The crust was dynamite: not to doughy, not too chewy. We will be making this again and again. Trust me.
Voila!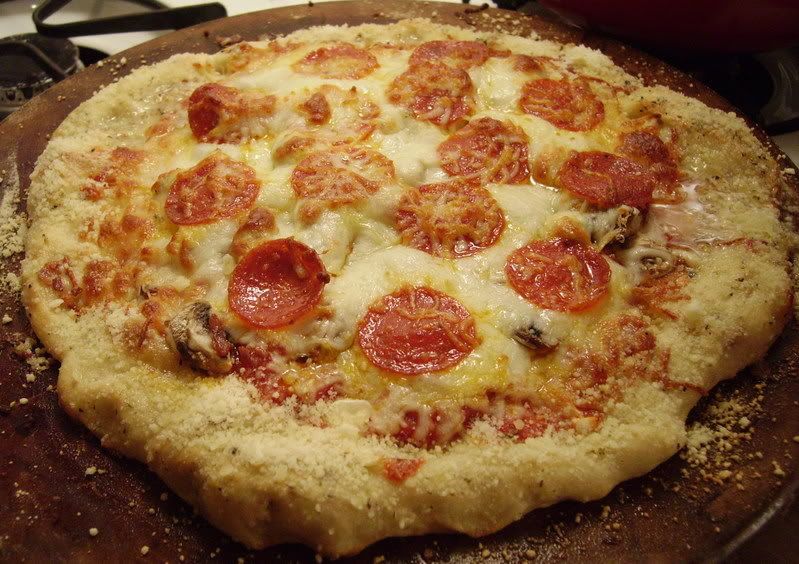 For the crust:
2 1/4 teaspoons of yeast
1 teaspoon of brown sugar
1 teaspoon of salt
2 tablespoons of olive oil
1 1/2 teaspoons of
Italian
seasoning
1 1/2 cups of warm water
3 1/2 cups of flour
In large bowl, dissolve yeast and brown sugar in the water.
Let sit for 10 minutes.
Stir the salt, oil and

Italian

seasoning into the yeast mixture.
Mix in 2 1/2 cups of the flour.
Turn dough out onto a clean, dry surface and knead in more flour until the dough is no longer sticky.
Place the dough into a well oiled bowl, and cover with a cloth.
Let the dough double in size.
Should take about 1/2 hour if in warm spot.
Punch down and let rest a minute.
Roll out, and prepare your favorite pizza.
I use a pizza stone sprinkled with a bit of corn meal.
Once I have the dough shaped I bake it plain for about 5-10 minutes, then pull out of oven and add toppings, just seems to work better every time.
Bake in preheated oven 425 degrees until the cheese and crust are golden brown, about 20 minutes.
For the toppings:
pepperoni
sliced onions
a blend of five shredded cheeses
mushrooms.
Crust Topping:
Melted butter, garlic,
Italian
seasoning, and
Parmesan
brush around the crust.
Oh and here's a not-so-happy pug. Apparently, he is upset about the election turn-out. We aren't... Go Stem Cell Research!