Today I rolled out of bed to make soup and biscuits. I am not a morning person, but...
I felt like Josh needed some nourishment. He is having trouble with his micro-something-or-other paper that is due tomorrow. And, I neglect him sometimes. There's nothing like a good bitch session and some soup to cure the blues.
I started with Italian wedding soup. This is a surprisingly easy and tasty recipe.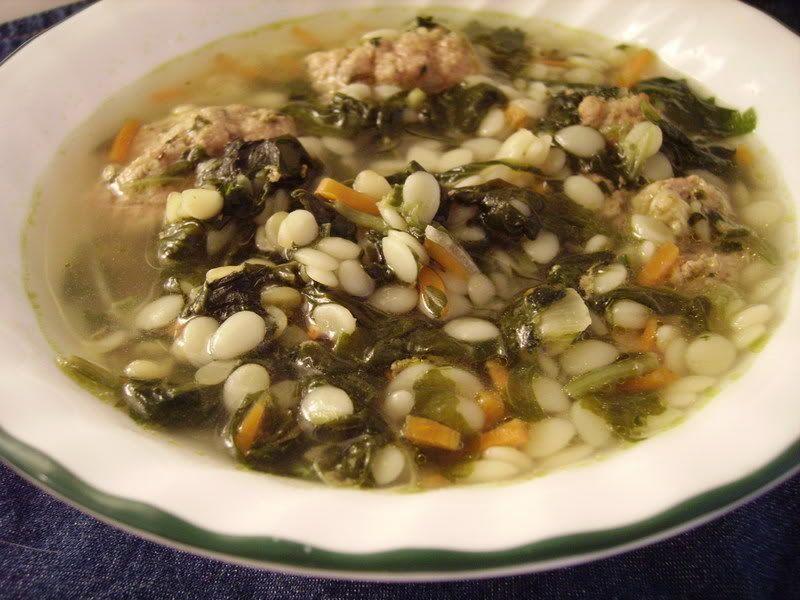 Italian Wedding Soup
1/2 lb of lean turkey
1 egg, beaten
2 tablespoons of bread crumbs
1 tablespoon Parmesan cheese
1/2 teaspoon dried basil
1/2 minced onion
5 cups chicken broth
2 cups of chopped spinach
1/2 cup orzo pasta, uncooked
1/3 cup of julienned carrots
grated Parmesan Cheese
In medium bowl combine, meat, egg,bread crumbs, Parmesan cheese, basil& onion powder; shape into 3/4" balls.
In large sauce pan, heat broth to boiling; stir in spinach, orzo, carrot& meatballs.
Return to boil;reduce heat to medium.
Cook at slow boil for 10 minutes or until orzo is tender.
Stir frequently to avoid sticking.
Serve with additional Parmesan cheese sprinkled on top.
To accompany it, I prepared Martha Stewart's Baking Powder Biscuits from her baking handbook. Okay, I must confess. I made these I few days ago. So, all I really did was take them out of the freezer and warm them in a 375' oven for about 10 minutes. That seemed to do the trick.



Let me tell you. These are the tastiest biscuits I have ever had....so rich and creamy. You don't really even need to add a thing to them, even though I did include rosemary and basil for a little herb flavor.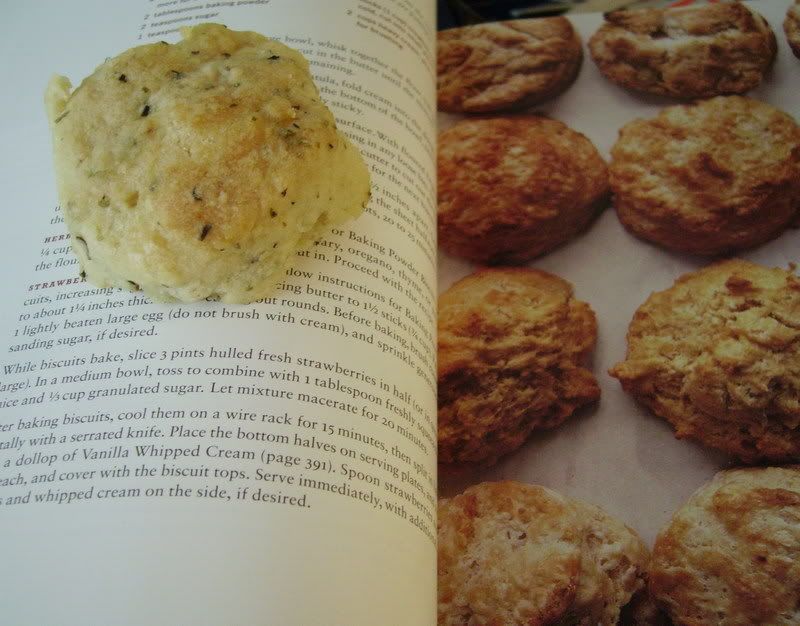 Martha Stewart's Baking Powder Biscuits




4

cups all-purpose flour

, plus more for dusting

2

tablespoons baking powder

2

teaspoons sugar

1

teaspoon salt

1

cup (2 sticks) unsalted butter

, cold, cut into small pieces

2

cups heavy cream, plus more for brushing




1.

Preheat oven to 400°. In a large bowl, whisk together 2 cups flour, baking powder, sugar, and salt. Using a pastry blender, cut in butter until mixture resembles coarse crumbs with a few larger clumps remaining. Add remaining 2 cups flour, and toss to combine.


2.

Pour in heavy cream; using a rubber spatula, fold cream into dough, working in all directions and incorporating crumbs at the bottom of the bowl, until dough just comes together. The dough will be slightly sticky.


3.

Turn out dough onto a lightly floured work surface. With floured fingers, gently pat dough into a round about 1 inch thick, pressing in any loose bits. Do not overwork the dough. Use a floured 3-inch round biscuit cutter to cut out biscuits as close together as possible. (Use one cut edge as the edge for the next biscuit.)


4.

Place biscuits on an unlined baking sheet about 1 1/2 inches apart. Generously brush tops of biscuits with cream. Bake, rotating sheet halfway through, until biscuits are golden and flecked with brown spots, 20 to 25 minutes. Transfer biscuits to a wire rack to cool.



Also, Pugapoo has been spotted in some precarious positions on the back of the couch. He seems to have a new found fascination with looking out of the window.






Please note the lazy pug and his useless, non-wagging tail.