Fall is always the time of year that I start wanting to be a coffee (and wine, but that's another story)
connoisseur
. I don't know. There is a chill in the air, and it makes me want to sip a good cup of coffee with just a hint of cream and sugar. I know. I know. Coffee's flavors are more
pronounced
when black, but I just cannot do it. I like the way the cream and sugar pair with the coffee.
And I had plans to do this today, except I discovered that the expired milk had been thrown away by Josh. This was probably a good thing.
Needless to say, I didn't have coffee. However, that leads me to explaining how we like to prepare our good Cuppa' Joe.
First and foremost, Coffee brewed in a regular coffee maker does not generally do it justice. The filter prevents the flavors and aromas from the coffee bean from appearing in your cup.
Instead, we start with a Press Pot.
I begin by boiling a tea kettle on the stove.
Meanwhile, I put my coffee (Costa
Rican
La
Minita
) into the well of the grinder.
Once the teapot comes to a boil, I press the grind button. French press coffee requires a courser grind. The larger chunks prevent dust from forming in your pot. This can be accomplished from a burr grinder that allows you to tweak the grind of each pot, if needed.
A press pot calls for 1 rounded tablespoon of grounds, per 4 ounce cup.
I put the coffee grounds into the bottom of the press pot and fill it with a few inches of the tea kettle water. It is important that the water is not boiling. That is why I leave it to rest for a few seconds while I grind the beans.
The coffee should then form a bloom in the bottom of the press pot. It bubbles.
Then I fill the rest of the pot with the tea kettle water according to how many grounds I put in it. Again, 1 tablespoon per 4 ounces.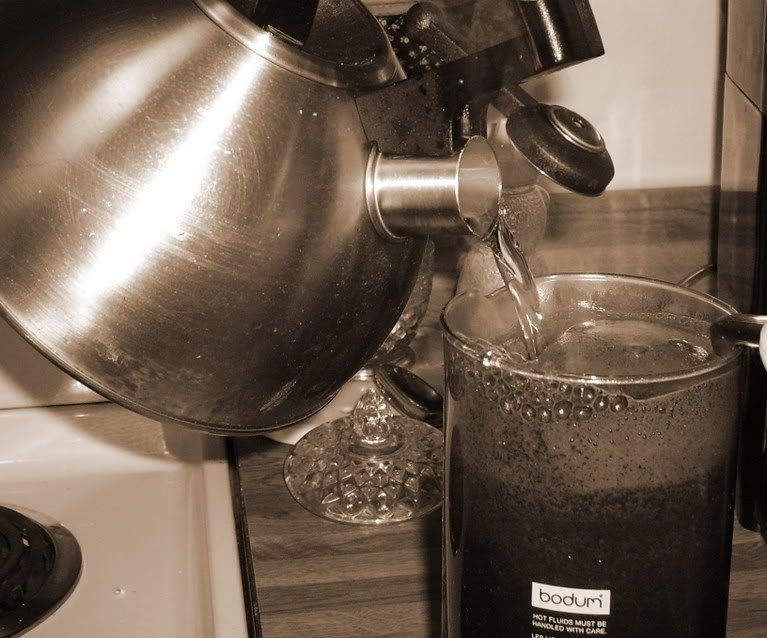 I put the lid on and let the coffee steep for 2-3 minutes. Then I take a long spoon an stir the coffee.
After that, I am ready to put the lid back on and plunge the coffee to the bottom.
It's ready to drink. Now where's that Intelli Mug?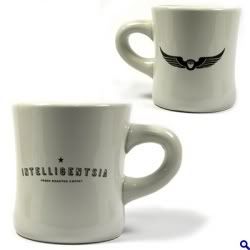 Please refer to Coffee Geek's article on French Press Coffee. I double checked my statistics on this website.

I also thank Josh for showing me how to make a press pot. He is wonderful.