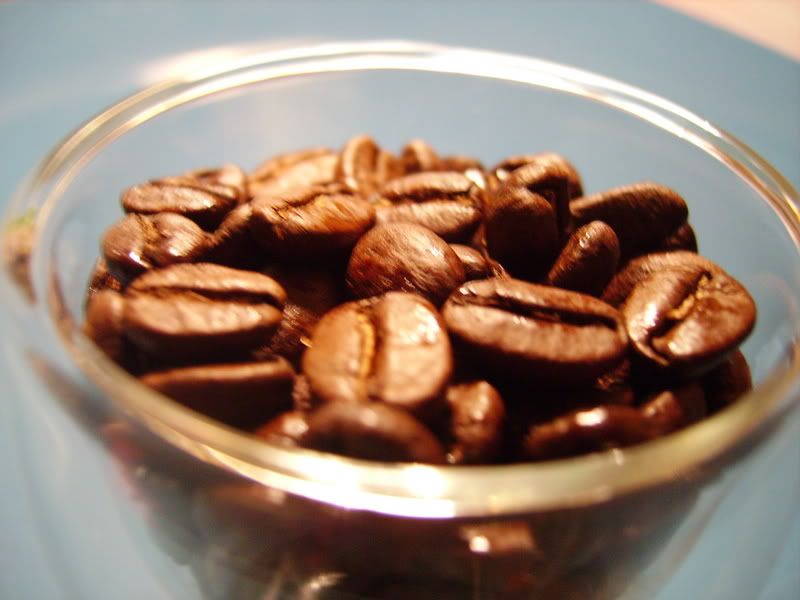 As an after Christmas treat, Josh and I ordered coffee from
Intelli.
Oh my, how I love coffee from Intelligentsia.
Let me count the ways.
First, Grab a cup of coffee and sit down while I tell you a little about the monster behind Intelligentsia.
I would say that this Chicago icon holds a special place in our hearts. Josh and I started listening to the
coffee geek podcast
over a year ago. We soon learned of a little ole' place called Intelligentsia that had what is considered killer coffee. This lead to ordering online, visiting Chicago, and most importantly
black cat bars
. Although I'll save black cat bars for another time, I do believe that Intelligentsia was a key point in the beginning of Josh's obsession, and mine that was to later come.
I would say that from what I know about Intelligentsia, they focus on the quality that goes into the cup. They seek environmentally and socially conscious growers, and are a big part in the
Cup of Excellence
coffee movement.
Intelligentsia peaked my interest this time with their Restaurant blends. As an aspiring chef, I must say that I am almost in heaven. A coffee company that works with chefs to develop a blend of coffee to accentuate their food. Can you even imagine?
This time I ordered the Spring Blend.
According to Intellgentsia's Website:
A harmonious and versatile blend of beans from Central America and the Indonesian Islands to match Spring's New American and Asian influenced cuisine. This blend's full, earthy body, excellent chocolate tones and hints of fruit and spice and complements both dinner and dessert.
I thought, dinner and dessert? Now that's my cup of coffee.
Although, I have yet to taste the chocolate and fruit tones in this coffee. I like it.
And, I have also learned (this time around) that it's the cream (NOT THE SUGAR) that is giving me the taste profile that I prefer. This is a revelation, since I have been known to pour quite a large amount into my cup.
In short, This is the thing that I call life:
toothpastefordinner.com